Las Vegas Vehicle Wraps
View Vehicle Wrap Gallery
Boost your brand and business visibility with high-impact, high-visibility dynamic graphics by your Las Vegas vehicle wrap company, Las Vegas Sign Company.
Whether you're a fleet of food trucks or utilize a variety of commercial vehicles to effectively get the job done; we create the perfect vehicle vinyl wraps, graphics, magnets, decals, and other promotional materials for your cars, trucks, vans, trailers, and boats.

In addition to custom wrap design and high-quality wrap manufacturing, Las Vegas Sign Company also employs vehicle wrap finishing experts that ensure your complete wrap project is perfectly executed and ready to make an impact.

Take your business promotion to a completely new venue, expand the number of wrapped vehicles in your fleet, or add a protective covering to your vehicle investment with our durable, attractive, and high-performance vehicle wraps and graphics. The signage professionals at Las Vegas Sign Company always deliver quality and value.

Call Las Vegas Sign Company at (702) 903-1108 for a Free Consultation!
Vinyl Graphics, Partial Wraps, & Magnets
While a complete, full vehicle wrap is the ultimate in business promotion and building brand visibility, it isn't always the right choice for every vehicle and intended use. Magnets, graphics and decals, and partial wraps are all effective marketing tools that help you accomplish your promotional goals.
Full Vehicle Wraps
Full vehicle wraps are impactful, protective, and eye-catching, turning your commercial vehicle into a portable advertisement that goes everywhere that you do. With full-color, striking vinyl graphics, you can completely customize your vehicle, from changing the color with a solid protective film to adding dynamic graphics and targeted promotional messages.
We have vinyl materials durable enough for even the most heavily used construction vehicles. Let our Las Vegas, NV vehicle wrap experts help you determine the perfect design, material, and layout for your full wrap.
Partial Car Wraps
Not every need requires a full vehicle wrap to get the job completed. Partial wraps make it possible to target specific areas of your vehicle for promotion or branding. Doors, hood, side panels, bumpers, or any other combination thereof can have impactful, attractive, and dynamic graphics applied to entire panels, providing seamless protection for the areas you choose to cover. This is a budget-friendly solution that can make it possible to add marketing messages to all of the vehicles in your fleet.
Vinyl Graphics
To apply specific images or lettering only to your vehicle, cut vinyl graphics are a great choice. These allow you to test a design before committing to a full wrap or can allow you to simply add the details your potential new customers need the most. Vinyl vehicle letters can also be used for DOT information, naming your boat, or for adding basic logos and text to any area of your vehicle.
The benefit over full or partial wraps is that information or graphics can be modified without impacting the entire look of your design, as each element stands alone rather than being a full sheet of seamless material. So if your phone number changes, that is an easy adjustment to make with vinyl graphics. However, with the edges exposed, they are more likely to become damaged faster, giving wraps the edge over graphics for a long-term professional look.
Vehicle Magnets
Don't want to promote your business all of the time? Do you use your corporate vehicle for personal transportation as well? Are you a speed demon who doesn't want to have it reflect badly on your organization? Do you operate under multiple business names?
If any of these unique situations apply to you, then custom vehicle magnets are a great solution for promoting your brand on your terms. Completely removable and easily replaceable, with customization options for size, shape, and colors, vehicle magnets are the most versatile of all of our vehicle marketing products.
Perforated Window Film
Add the perfect finishing touch to your vehicle wrap project with perforated window film that provides shade and privacy to your vehicle occupants while still allowing them full visibility from the inside out.
Creating a traffic-stopping impression, window film can be used on side or back windows in conjunction with a full wrap, partial wrap, or as a stand-alone product depending on your needs and desires.
Covering your windows can also help reduce theft by obstructing the view of your vehicle contents, which can be especially useful for delivery vehicles or contractors who may regularly haul expensive items or tools as a part of their job.
Your Las Vegas vehicle wrap company, Las Vegas Sign Company ensures you get the perfect promotional products for your vehicle and brand.
Professionals Wraps For All Vehicle Types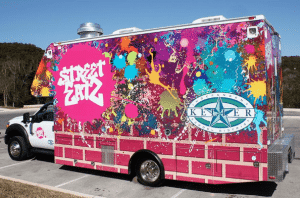 From striking, high-color full wraps for your entire fleet to single vehicle magnets, our Las Vegas vehicle wrap experts produce attractive, effective marketing tools for your business and brand promotion.
Our wrap professionals work with you to determine the level of wrap that is appropriate for your needs and budget, create an impactful design for your vehicle, and both professionally produce and place your high-quality wraps and graphics.
Our experts can even modify your wrap design to accommodate multiple types of vehicles, allowing you to get your commercial cars, trucks, vans, trailers, and any other vehicles wrapped with complementary designs that perfectly fit each individual vehicle.
Our vehicle wrap services include:
In addition to our Las Vegas vehicle wrap services, Las Vegas Sign Company is a full-service signage provider, delivering all of the impactful sign and graphic elements your business needs for maximum visibility.
Fleet Wraps Improve Customer Confidence
Wrapping your fleet vehicles with cohesive, branded graphics provides your customers and clients with a sense of security, especially for businesses that make house calls like delivery vehicles, plumbers, electricians, exterminators, or other providers.
Many contractors and service providers experience the hesitancy and uncertainty of a customer who doesn't know why someone is knocking on their door. With a branded vehicle wrap, your customer can immediately identify what organization you are with, improving their reception of you, and providing a better customer experience.
Full-Service Vehicle Wrapping
As a full-service Nevada vehicle wrap company, we tackle every aspect of wrap design, production, and finish that you need assistance with.
Already have a design in mind? Our expert wrap designers can confirm if the layout is appropriate for your vehicle and will provide smart recommendations for ensuring your wrap is as effective as possible, and that all of your most important messaging is easily seen, read, and understood by pedestrians and motorists alike.
Our finishing experts not only provide professional finishing, they offer tips for wrap care and maintenance to help you get the most longevity possible out of your investment.
Free Vehicle Wrap Consultation
For attractive, promotional vehicle wraps, graphics, and magnets that promote your business and get your brand seen by your local community, trust Las Vegas Sign Company.
Providing unrivaled product quality, support, and prices, our Las Vegas vehicle wrap professionals ensure you get the best products and exposure for your brand and business at the best possible value.
Call Las Vegas Sign Company at (702) 903-1108 for your Free Consultation with a Vehicle Wrap Specialist!