Winchester Lighted Signs
For any type of business, visibility is one major factor of increased foot traffic and average sales ticket. After all, not one customer will enter your shop if they can't find your establishment in the first place. Solving this particular problem is what our Winchester lighted signs are made for.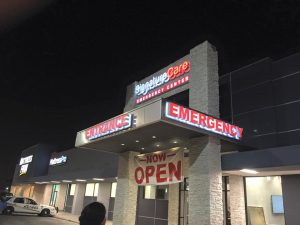 Las Vegas Sign Company is an expert in upholding the premium quality of our manufactured lighted signs. From our designers to finishers, everyone has ample training and excellent skills to ensure that every detail of your signage will be perfected to your satisfaction. More importantly, we have electrical engineers who will ensure that your lighted signs will work flawlessly.
Whether you want the classic neon sign look or the more economical LED signs, our signage experts can deliver them with your budget, specifications, goals, and timeline in mind. We can even help you conceptualize a design if you don't have your designer and you're not particularly artistic yourself.
Ready to give your business an attention-grabbing storefront and a dynamic interior? Start discussing your lighted sign ideas with our team today!
Call Las Vegas Sign Company at (702) 903-1108 for your Free Consultation with a Winchester Lighted Sign expert!

Traditional Neon Signs
Neon signs have already benefited thousands of businesses since the 1920s. It's even hard to imagine Vegas without the bright, attractive lights of neon signs. They exude a classic charm that almost naturally draws people toward them, especially at nighttime.
Neon signs are also famous for their versatility. Glass tubes filled with neon can be bent and shaped into practically anything, allowing you to be as creative as you want to be.
However, creating and maintaining neon signs can be costly and not environmentally friendly. Get the same great look and feel as traditional neon signs with LED signs that are durable and use very little energy for a much more cost-effective alternative to traditional neon signs.
Lighted LED Signs
One of our most in-demand Winchester lighted signs comes in the form of LED signs. For those who want the retro appeal of neon but want to have a better energy footprint and long-term savings, they are the perfect replacement for traditional neon signs.
LED signs run on 5 to 10 times less energy than neon. Their purchase cost can also amount to be 10% cheaper, making them a financially wise decision both for long-term and upfront savings.
When it comes to performance, LED signs tend to be better than neon as well. Their lights shine brighter and, unlike neon, whose lights blend with sunlight, LED signs are still highly visible during broad daylight. This makes them ideal for having a wider marketing reach and maximizing visibility no matter the time of day.
You can use led signs both for outdoor and indoor purposes. The thin polymer tubes they are made of are flexible and occupy less space, making them easy to put in and replace. They also generate no heat, making them safe to touch.
Additionally, you can illuminate your traditional channel letters and cabinet signs with LED backlighting. This way, you can improve your business's classic, professional look with a cost-efficient tool that highlights your visibility.

Indoor Lighted Signs
Although commonly utilized outdoors, lighted signs are also effective marketing tools within your establishment. From advertising products to providing passive wayfinding assistance, indoor lighted signs will make your customers love your business more and boost your sales in return.
For the food industry, lighted signs will help them emphasize their order and pick-up points. They could use it to make their menu boards more attractive and compelling as well. Or, at the very least, use them as opening signs to let their customers know they are ready to serve them.
Indoor lighted signs can also act as advertising tools that will help retail outlets encourage impulse purchases among their customers. Typically, you would see these lighted signs near check-out lines and service counters highlighting new or special products.

Programmable Digital Message Centers
Lighted signs don't just come in LED signs or lightbox signs and lit channel letters. You can also use them in a modern programmable digital message center that is both cost-effective and a dynamic communication tool.
With digital message centers, you can advertise your products and services with either text, images, or video displays. You can even change your display without having to invest in another signage. All you have to do is program it using simple software, and you're good to go. Digital message centers are definitely a worthwhile purchase if you don't want the hassle and expense of frequent signage replacement.
We can create digital displays outdoors where you can showcase your business offerings in the highest resolution possible. They can also be utilized as interactive displays where customers of food outlets can order and reserve tables before even going in. Stadiums can also use them to provide close-up coverage of their events.
Indoor digital message centers can act as dynamic posters, menu boards, and additional advertising tools. They can also provide useful information like directories, company history, and other corporate messages. Additionally, indoor digital signs are also good for providing a more efficient workspace for your employees and entertainment for your guests or clients. This is especially helpful if your customers tend to have to use a waiting room for any length of time.

Full-Service LED Sign Company
When it comes to getting people to notice your business and getting your message across, lighted signs can give you a significant advantage with clarity and attractiveness. At Las Vegas Sign Company we provide you with Winchester lighted signs that not only perform well but also are energy-efficient and cost-effective.
Our team is composed of professionals in the fields of designing, manufacturing, and finishing all kinds of signage. We also have engineers who will focus on making sure that your signs will light up without any electrical problem.
Whether you are a starting entrepreneur who still doesn't have a brand design or have an already established business but want to explore more visual options using your key brand elements, our in-house designers can help you. We will give you eye-catching and functional signage that will attract potential customers. The design you will approve will then be produced by our expert craftsmen.
And, of course, to ensure that the job will be satisfying until the very end. All of this we promise you at a price you can definitely afford!
So whether you want to give your store the retro feeling of neon signs or invest in other innovative options such as LED signs, digital signs, back-lit channel letters, or lightbox signs, among many others, trust that Las Vegas Sign Company is the best full-service signage company to work with.

Free Lighted Sign Consultation
There are a lot of options when it comes to lighted signs. Some of our most popular Winchester, NV lighted signs include LED signs, LED digital displays, back-lit channel letters, and lightbox signs.

If all the choices are overwhelming for you or you're not sure what material is best for your signage, you can always call and discuss your needs with us. Regardless of your lighted sign needs, we guarantee a cost-efficient product and an amazing customer experience.
Ready to outshine your competitors? Pick that phone up now.
Call Las Vegas Sign Company at (702) 903-1108 for your Free Consultation with a Winchester Lighted Sign expert!