Sunrise Manor Pylon Signs
No matter how amazing your products or how wonderful your services and business location are, none of them would matter if your business isn't visible to potential customers. To help you attract as many customers as you can, even with obstruction and distance issues, let us create high-quality pylon signs for your business.
Las Vegas Sign Company is a long-established name in the signage industry. Designing, manufacturing, and finishing Sunrise Manor pylon signs are among our top services. Whether you want your signs illuminated or not, we deliver top-grade signage that is guaranteed to make your business stand out.
With towering heights and lots of display options, pylon signs effectively make a your business visible. They are not only applicable for stand-alone businesses but are especially useful for commercial buildings and campuses where several different businesses or departments reside. More importantly, they can also make a building that is low or set back from the road easy to locate for customers seeking you out.
Want to know how you can make the most out of a pylon sign? Talk to our signage experts today, and we will gladly guide you through all your signage options—budget, location, and business goals considered.
Call Las Vegas Sign Company at (702) 903-1108 for your Free Consultation with a Sunrise Manor Pylon Sign expert!
Illuminated Sign Boxes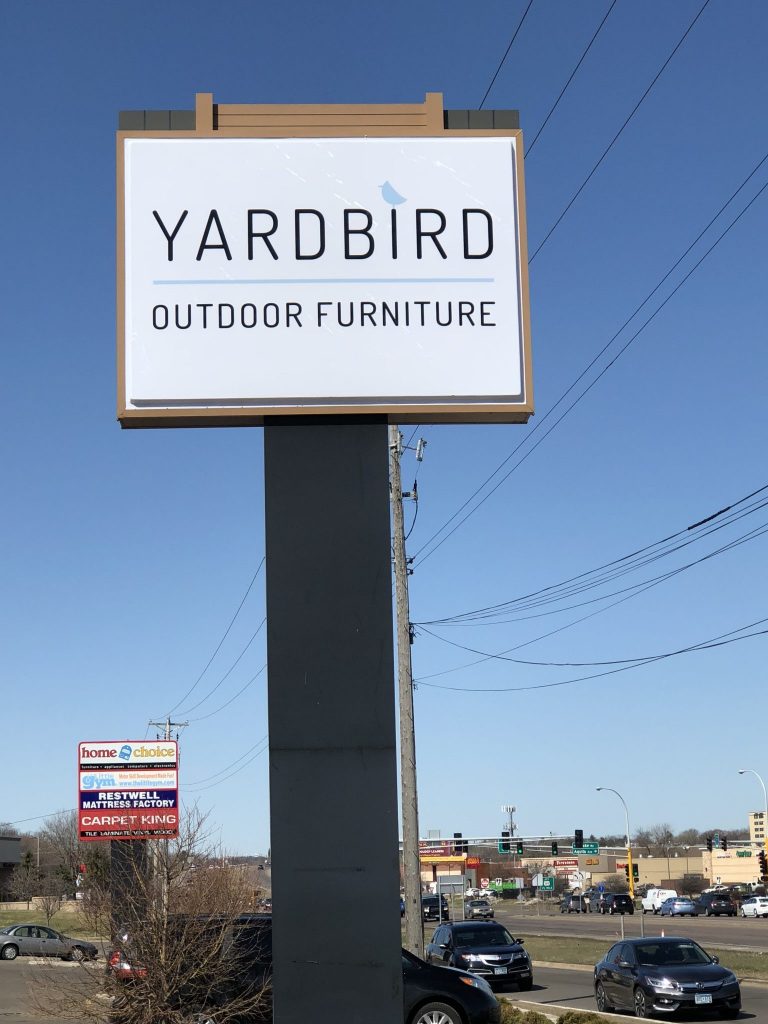 Perhaps one of the most common types of pole or pylon signs is made with lightbox cabinets. They are typically illuminated or backlit by LED or fluorescent lamps. Either way, illuminated pylon signs serve as effective advertising tools that will function 24/7 all year round.
Having your pylon signs illuminated will give you better visibility at any time of day. Even under harsh weather conditions, the brightness and durability of pylon signs will keep your business easy to locate.
Las Vegas Sign Company can design, manufacture, and finish illuminated Sunrise Manor pylon signs of all shapes and sizes. Aside from their loftiness, you can opt for even more attractive pylon signs using unique shapes and vibrant colors. With visuals that set your signage apart from the rest, your pylon signs are guaranteed to catch the attention of practically every passerby.
Having your illuminated pylon signs advertising for business 24/7 makes people extremely familiar with where your business is located. Even if they don't visit your place the first time they see the sign, the next moment they're in need of your product or service, your attractive sign will be the first thing that pops into their mind and they can go straight to where you are.
Your signage will act as a landmark and can direct people to your exact location, even if you have other buildings or obstructions in front of your site or you're quite a distance away from the main road.
Affordable Tenant Signs
Malls, office buildings, and other establishments that house multiple tenants will find great value in pylon signs. High-rising and durable, these signs can have multiple panels that will display the various businesses within one building.
Typically, the sequence in which the business name appears corresponds to which floor or room they are located, making it easier for customers to know where they should go.
Different panels within one pylon sign can have different sizes or displays. They can be simple flat panel signs, or you can upgrade with cabinet signs or even digital displays.
Regardless of what type each tenant prefers to have, Las Vegas Sign Company guarantees to use elements that match your brand while providing the best visibility.
Weather-Proof Outdoor Signage
Since they are made for outdoor purposes, Las Vegas Sign Company makes sure that all of our Sunrise Manor pylon signs are made out of top-grade materials that will last in any type of weather condition outside.
To give you better service, Las Vegas Sign Company upholds the highest standards in the industry, guaranteeing the effectiveness and longevity of our pylon signs. We utilize aluminum coverings welded to a steel frame to improve our sign's durability.
We have also addressed concerns on rusting by having structural steel within the sign painted separately from the skins. And, of course, we also offer coatings for the faces of your pylon signs to make sure that fading won't be a problem.
More importantly, our signage experts can provide you with water-resistant pylon signs. No matter how heavy the rains or how strong the winds will be, rest assured that we will give you long-lasting signage that can advertise your business for as long as you need.
Day or night, our pylon signs are here to make your business as visible as it can get!
Full-Service Sign Company
Whether you prefer to have them lit or not, getting pylon signs will definitely give your business a boost in terms of advertising. Las Vegas Sign Company, composed of talented professionals, can handle all the necessary steps in order to realize this advantage.
If you decide that pylon signs will best suit your needs, we have in-house designers and manufacturers who will work with you from the very beginning of the signage-making process. Taking your ideas and other relevant factors into consideration, our designers can conceptualize a sign design and let you approve it.
Our manufacturing team who will then put the pieces together to complete your approved design. Rest assured, everything will be manufactured with the finest materials and through the most efficient process possible. You can regularly check on our progress to ensure that every detail will be up to your standards.
No matter what height, size, or shape you want your signage to be, trust that our Sunrise Manor, NV pylon signs will meet your expectations at the quickest possible turnaround.
Free Pylon Sign Consultation
Not sure whether pylon signs are the right fit for your business? On the fence about what size, shape, or type of display will look best for your pylon sign? Our team is ready to guide you.

As signage experts with extensive experience in the sign-making industry, we are confident that we can give you professional advice that you can always find helpful. For starters, we will give a comprehensive explanation of all the benefits that pylon signs can give. We will then narrow down your options into the most appropriate ones for your budget and business goals.
From single-pole mount, twin-pole mount, covered-pole mount to customized lightbox pylon signs, we guarantee signage that will present your business in the best possible way. Get ready to maximize your visibility and increase your average ticket today!
Call Las Vegas Sign Company at (702) 903-1108 for your Free Consultation with a Sunrise Manor Pylon Sign expert!