Spring Valley Indoor Signs
View Indoor Sign Gallery
Durable, engaging, and informative indoor signs, graphics, and displays are vitally important to your company or organization. From assisting clients, customers, and guests with wayfinding to encouraging your team, your indoor sign and graphic blend keep operations running smoothly.
Choosing the most impactful indoor signs can be a challenge. There are numerous factors and elements that need to be taken into consideration, like your business sign and graphic goals and objectives, how clients and customers utilize and navigate your commercial space, ADA and other legal signage requirements, and how often you would like to modify your sign and graphic can all impact the type of indoor signs you need for a functional workplace.
Your Spring Valley indoor signs and graphics providers, we not only fabricates signage elements, we understand how targeted signs and graphics can control building navigation, remind your team of safe work routines, and make sure your brand gets remembered. By providing high-quality and attractive sign and graphic elements that are designed specifically for your company, requirements, and facilities, our professionals can help you with taking your business to greater heights.
We supply on location facility evaluations, which allow us to make the right signage product recommendations so your employees and clients can find their way around your physical facilities and find the locations they want with minimum instruction.
Call Las Vegas Sign Company at (702) 903-1108 for your Free Consultation!
Interior Signage For Office Buildings
Office buildings frequently have a variety of offices or even separate businesses and organizations. Office buildings of any size tend to be confusing to maneuver through, for both new and even returning guests or customers.
However, many organizations have the capability to use their staff for more useful responsibilities by using impactful sign and graphic components to support guests. From office directories and facility maps to ADA and room identification sign and graphic elements, indoor signage elements are vital for supporting intuitive wayfinding within sizeable office complexes.
The variety of indoor signs and graphics that can promote and support your business goals. Effective dimensional graphics, floor signs, and hanging signs can all be employed to display insights about your brand, promote corporate culture, and your goods and services. Nearly all office buildings incorporate many signage elements to reinforce their brand and message throughout for maximum cohesiveness.
Retail & Restaurant Indoor Signs
Indoor signage for retail businesses and restaurants is quite often more targeted at selling your products as opposed to brand reinforcement. Your brand should play a major part in your wayfinding and promotional signs and graphics!
Las Vegas Sign Company provides attractive department signage, menu boards, and more that features your merchandise and applies your logos, fonts, and colors for brand cohesion throughout. We make it effortless for your customers to find the way through your store or restaurant and find the products, areas, and departments that they require to become a buyer. We focus on intuitive signs and graphics. We are familiar with customer behaviors and their expectations for signage. This allows our experts to make sure you are achieving or exceeding those expectations throughout your building.
Signs for Warehouses & Manufacturing
Warehouses, factories, industrial facilities, and similar kinds of organizations not customarily open to the public also require highly-effective signage elements. Whether your goal is to strengthen morale, tell them about potential dangers and safety procedures, or tell your brand story with wall murals, displays, and graphics, Las Vegas Sign Company will identify and produce the best indoor sign and graphic blend for your business.
Indoor banners, safety signs, wall murals, and wayfinding signage can all support your business objectives, limiting the chance of workplace injury and providing an environment that your crew enjoys returning to each day. Las Vegas Sign Company is your supplier of attractive commercial and industrial sign elements, supplying assistance, guidance, and support, so you are sure to get the perfect signs.
Cohesive Interior Signs for Business
Expertly building your brand necessitates continuity throughout all your marketing elements. Creating defined brand standards, and referencing these elements through your marketing and promotion, allows you to not only build the essential repetition for your corporate branding to be easily remembered, but can also present a comprehensive and professional picture of who you are as a business. Our experts provide custom ADA signage, indoor banners, and promotional signage that will really tie in with your existing signs and graphics.




If you have a need for developing the concept, layout, or any sign design assistance, our skillful sign design specialists will be able to visualize the ideal branded commercial interior signs and graphics for your facility and goals.
Every Indoor Sign Your Business Needs!
You can trust Las Vegas Sign Company to produce custom, branded indoor signs and graphics.
From product displays to trade show displays, our professionals appreciate the specific goals of assorted business types. Our team takes into consideration your brand guidelines and personality, physical space, and business objectives in order to prepare the most suitable signs for your business needs.
If you want just one particular sign or graphic or a cohesive assortment of brand building and promotional signage elements, Las Vegas Sign Company can create it.
We provide the perfect elements to ensure that your signs are eye-catching, high-quality, and crafted using earth-conscious practices and products at any time viable.
Our indoor sign services include:
Seeking storefront signage also? We produce those elements for a cohesive impression anywhere your brand and business is displayed!
Full-Service Interior Sign Manufacturers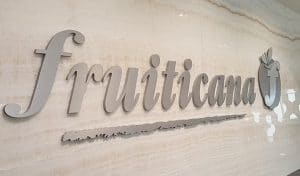 Our Spring Valley, NV indoor signage specialists will manage all aspects of the interior sign process.
From our initial conversation and conceptualization to sign and graphic design, manufacturing, and high-quality finishing, our experts provide assistance during every stage. We create the perfect signs, graphics, and images, in the right size and shape, with the correct message, placed in the most effective location, every time.
As your seasoned commercial sign consultants, we provide on-site evaluations of your business signage requirements, providing astute suggestions for precisely which elements will best fit your facilities. As skillful sign design specialists, we deliver focused, functional signage that is immediately seen, acknowledged, and remembered.
Our commercial sign production experts make certain each and every element of your commercial signage is crafted to your specifications and that every element works collectively as anticipated. Our standards for quality are firm, so we can be confident we will secure your complete satisfaction.
Should you need effective and functional indoor signage that is affordable, attractive, cohesive, and supportive, our local Spring Valley indoor sign experts at Las Vegas Sign Company provide just what you need.
Free Expert Indoor Sign Consultation

Las Vegas Sign Company is sure to delight you with reliable customer support, talented designers, and outstanding sign creation. Our motivated, experienced team of Spring Valley indoor signage professionals are completely ready to conceptualize and produce the custom, branded indoor signs required to effectively promote wayfinding, customer support, product and service promotion, or brand reinforcement.
Call Las Vegas Sign Company at (702) 903-1108 for your Free Consultation with an Indoor Signs Specialist!